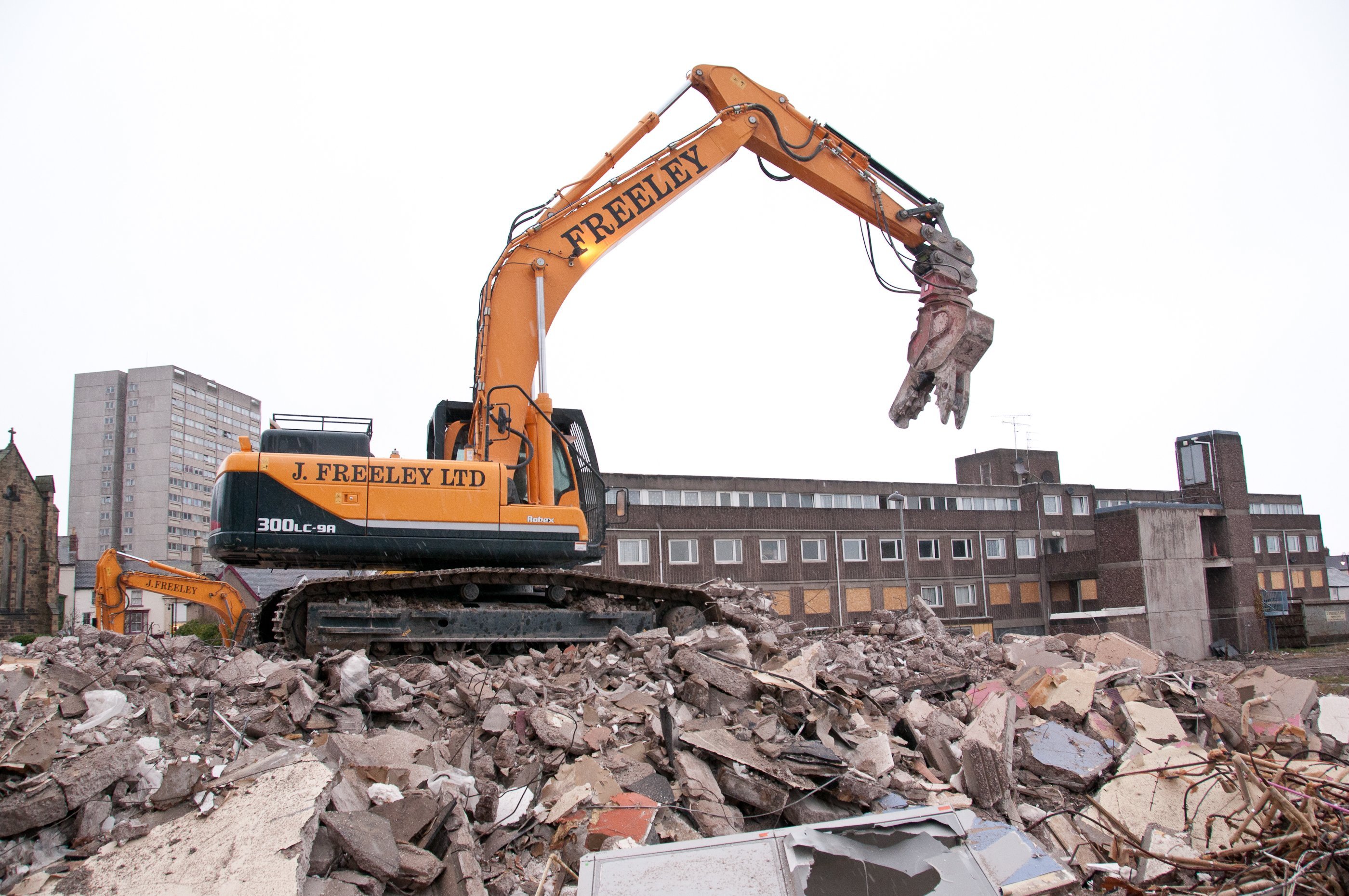 Demolition of multiple blocks of four-storey maisonette flats
Flintshire, UK
Key Issues:
Resident liaison

Asbestos removal

Dust suppression

Noise minimisation

Town centre location

Traffic management

Service disconnections

Liaison with ecologists and archaeologists

Bulk excavation
Client testimonial:
"J Freeley Ltd were not only faced with the difficulty of demolishing maisonette blocks that were close to the town centre, but which were also very close to the hearts of the residents and family friends/members who had lived in the maisonette's since their construction. The majority of tenants were upset to leave but all appreciated the reasons why the works were required; to make way for new homes that would help to assist regenerate the town centre.
J Freeley Ltd were the successful bidder within a tender process that also included an interview process and quality submission. The project was delivered on time and within budget. They worked with the Council to deliver the works within those agreed budgets and provided alternatives and cost savings where ever possible.
J Freeely Ltd brought their knowledge and vast supply network to the table and assisted where changes to the schedule were brought forward by ourselves and also the new developer. They were required to organise and manage various resources such as Scaffolding contractors, Archaeology contractors, Electricians, District Heating Specialists, Fabricators, Asbestos surveyors & Removal contractors along with Ecology surveyors.
The Site team had excellent knowledge with regards to all aspects of the works, remained flexible throughout, transparent and also ensured the site was safe and secure at the end of each day and also visited over the weekend; again to ensure all areas were safe and secure. The contract was delivered in an excellent and professional manner and demonstrated high levels of control and technical ability in all areas.
We would like to take this opportunity to thank J Freeley for their support during this difficult project. I would have no hesitation in recommending J Freeley Ltd to any potential future client's or other authorities for their assistance with any demolition project that may arise."